Two thousand twelve was an undeniably amazing year for me, filled with many opportunities and life-lasting experiences.
I began an internship with Girls' Life magazine (also discussed in an awkward video blog), writing for the online website, contributing to cover stories, and assisting with photo shoots.
I played Blair Waldorf for a week, cozying up at The Empire Hotel with black-and-white cookies, crushing on Kellan Lutz, and cramming for a calculus exam while bar-side.
(The Twilight star was hot, but let's be serious. Standing mere feet away from the Olsen twins for the second time in my life was the freaking highlight of my year.)
My walk-in closet and painted chevron rug was noticed by some seriously cool people.
Ali and I spent a few days in Fort Lauderdale soaking up sunshine.
I celebrated my 21st birthday with family and friends at Hightopps Backstage Grille.
My best friend Jamie and her family invited me to join them on a trip to Bermuda. We explored Hamilton, visited The Swizzle Inn on multiple occasions, and attended a stunning wedding.
I had a disastrous interview in New York City, but ultimately landed an internship as a public relations and social media intern for Jill Stuart.
Within three days of moving to the Big Apple, I was offered a nannying position in the Hamptons and had the chance to escape the city for a few weekends at the beach.
I slept on a futon with talking panda bears for two weeks, then moved and became neighbors with Chase Crawford.
In between hauling my crap across town on the subway, I took a last-minute trip to Miami with Natalie and our friends, Rachel and Misty.
The week started with a Mercedes-Benz Fashion Week kick-off party, and ended with plenty of shirtless men.
Back in the city, I walked the Brooklyn Bridge and happened to see Lea Michele filming a scene for Glee.
My family visited me in New York–we walked the High Line, saw the Barbie exhibit at the Fashion Institute of Technology Museum, and enjoyed sprinkle-covered ice cream cones.
I made new friends, and even met my twin blogger, Lauren.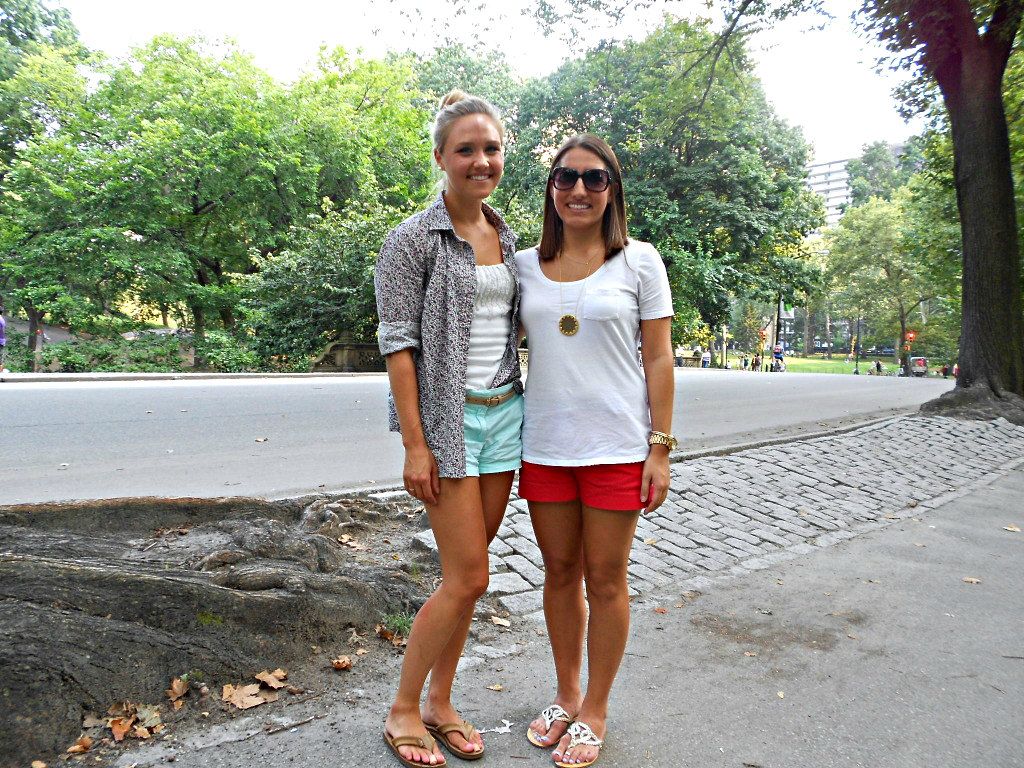 I brought CollegeFashionista to Towson University's campus, and was featured in the school's newspaper.
I obsessed over the Spring 2013 collections during Fashion Week in September, and spotted the Hilton sisters, Lauren Conrad, and Sarah Jessica Parker (better known as Carrie Bradshaw in my mind).
I was invited to tour McCormick's spice factory along with other bloggers, and hosted a dinner party with my sister.
I joined the SB team and began writing freelance articles for Baltimore Fishbowl.
I helped Jen launch her business, Living Shabby Chic.
I spent the holidays wearing faux fur and eating more desserts than I would like to admit.
Here's to hoping that 2013 is even more fun and challenging.
Happy New Year! xo, CK
See here for 2011's look-backs.
What is your highlight of 2012?